Message from the President of CUPE 1289
For those of you who do not know who we are, we represent the City of St. John's inside workers.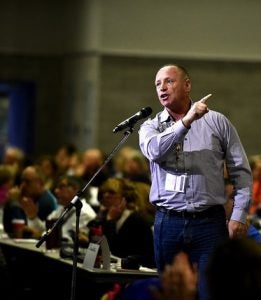 My name is Gregory Baker, President of Local 1289, and on behalf of our executive I would like to take this opportunity to welcome you to our site.
Each day workers in this country face a struggle that many of us do not know or understand. As president over the last four years, I have seen some of our struggles become all too real with the changes that our employer is bringing to the workplace. Changes are inevitable, but as union members we must be vigilant in our efforts to keep what we have so we can pass it to our future Union members.
Youth are not just the future. Youth are the present. They are the voters of today; the entrepreneurs of today; the innovators of today; the change agents of today. Hence we need to support and engage youth TODAY to help them achieve what their visions are for a strong and effective union of tomorrow
Remember, a union is only as good as the members want it to be. We must be able to stand together at all times in order to keep all of our rights and benefits that we have with our Collective Agreement
Thank you for taking the time to view our web site.
Labor cannot stand still. It must not retreat. It must go on, or go under.—Harry Bridges
The role of a labor union is to ensure that the balance is not tipped in favor of the employer when employees do not receive wages and benefits commensurate with their contribution.—William Burrus